Ben's Famous Chili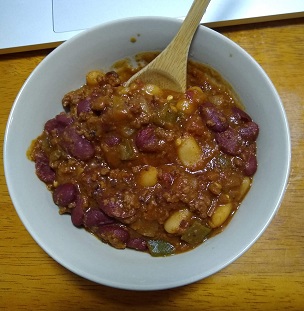 Ingredients:
2 tablespoons olive oil
1 pound ground beef, turkey, or bison
1 large white or yellow onion, finely chopped
1 can or bottle of beer
1 14.5 ounce can diced tomatoes
1 cup strong brewed coffee
1 tablespoon tomato paste
1 or 2 serrano or jalapeno peppers, chopped
2 15 ounce cans kidney beans
1 15 ounce can cannellini or other white beans
2.5 tablespoons Ben's Famous Chili Mix (email negleyben@gmail.com for more information)
Instructions:
Heat oil in large pot over medium heat. Add meat and saute until brown.
Add the onion to the pot and stir it into the meat.
Stir in the tomatoes, beer, coffee, peppers, and tomato paste.
Add 2.5 tablespoons Ben's Famous Chili Mix and kidney beans.
Reduce heat to low and simmer, partly covered, for 1 hour.
Add white beans to the pot and simmer on very low heat, partly covered and
stirring occasionally, for 2 more hours.